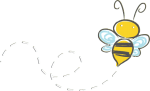 Click on the information below to discover "The Sweetest Town in Texas"
Honey Grove is centrally located in the great Southwestern market, embracing the six-state area of Texas, Oklahoma, New Mexico, Arkansas, Mississippi, and Louisiana – An area which abounds in natural resources.
Within a hundred-mile radius of Honey Grove, there is a population of millions, with the Dallas Metropolitan area only 80 miles to the Southwest.
Housing in Honey Grove is adequate and reasonable in cost. In addition, there are many beautiful outlying sections open for building and homeownership. 
In the immediate vicinity of Honey Grove are several beautiful lakes. Twelve miles North of the city is Lake Davy Crockett, consisting of 450 acres. It offers campsites, picnicking, and fishing. Also, in the vicinity of Honey Grove are Lakes Fannin and Coffee Mill which both offer fishing. Lake Coffee Mill also offers campsites. All three are a part of the Caddo National Grasslands. Deer hunting permits are given each year for the area. Two Corps of Engineer lakes are within easy driving distance – Pat Mayse Lake and Cooper Lake.
Bonham and Paris offer a variety of lodging choices for the visitor to Honey Grove. Both are within a 30 minute driving distance from the city.
The city houses a Civic Center, Exhibit Hall, and two parks. The Honey Grove Library and Learning Center is an exceptional library, holding over 17,000 items.
All residents of Fannin County receive The Leader newspaper free-of-charge. 
In Honey Grove, there are more than ten churches. The activities of these churches are amply supplemented by well-organized church groups and by the general support given by the Chamber of Commerce, Civic Clubs, and other organizations.
The Honey Grove Independent School District consists of an Elementary School, Middle/Junior High School, and a High School. The Middle/Junior High School relocated to the old High School building in 2002. The High School, Elementary School, Gymnasium, and Physical Education Gymnasium are all only a few years old.
Paris Junior College in Paris, Grayson County Junior College and Austin College in Sherman, and Texas A&M University in Commerce all serve area students.
There is a Medical Clinic in Honey Grove, served by a Nurse Practitioner. There is also a Dentist available in Honey Grove. There is a ninety-bed Nursing Home. Honey Grove also has a local Pharmacy. The Northeast Medical Center Hospital in Bonham, 16 miles to the West, McCuistion Regional Medical Center and St. Joseph's Hospital in Paris, 22 miles to the East, all offer excellent medical facilities with a wide range of specialists available. 
Bonham Fire & Rescue Ambulance service the community for emergencies. Home Health agencies in nearby towns also serve the Honey Grove citizens.
The Honey Grove Industrial Foundation, Chamber of Commerce, The Masonic Lodge, and the African-American Organization work to ensure the progress of the town.
Two banks are located in Honey Grove with assets close to 35 million dollars.